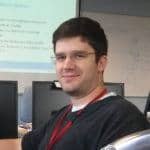 Amazing! Absolutely amazing!
I came across I'm an Engineer, Get me out of here almost by chance. When I signed up and eventually got accepted to participate, I didn't know what to expect. It was my first outreach event with such a young audience and at such scale across the UK. I definitely did not expect to have so much fun, let alone win it!
There were the simple questions like "what's your favourite colour?" and "on a scale of 1 to 10 how likely are you to get a pet?". Fun, yet a reminder that it's not all about work and engineering! And then you had the tough ones about the ethics of Artificial Intelligence, and whether robots should have human rights. Entire research communities are debating such questions, and there you have secondary school children wondering about them! Incredible.
The chats were my absolute highlights. The questions would fly in before we could even say "hi" and they wouldn't stop even as the countdown to finish showed a few seconds left. The energy and passion and even the silly and carefree attitude of the students just flowed through the chat! It would take me at least 10-15 minutes to get back to a calm state after each chat! It was exhilarating!
A huge thank you to the students for taking the time to ask such interesting questions. I feel humbled by your votes and hope I have inspired you the way you have inspired me with your excitement and passion for even the smallest things!
It would absolutely not be the same without the other engineers. Rumman, Pooja, Fran, Peppe, Greg; cheers guys you are brilliant! Such a awesome set of people, all coming together, with different points of view and experiences. Take the finalists for example, Peppe is finishing his PhD while working and raising a child at the same time! And Greg had such cool stories to share about his work and his robots, even I started asking him questions at some point!
Last by certainly not least, thank you to the organisers, moderators, and sponsors of this unique opportunity for engineers and students alike. They did an amazing job to make sure things ran smoothly and communicate with everyone. I think all the engineers agreed in the end that we wish we'd had such an experience when we were in school! I would definitely recommend it to any engineer out there.
Thank you so very much! I promise to do my best to make the most of the prize money for further outreach and spreading the word about Artificial Intelligence.
Cheers,
Petros
Engineers! If you'd like the chance to win funding for your own STEM outreach, apply for the next I'm an Engineer, Get me out of here: imanengineer.org.uk/engineer-apply