Profile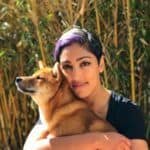 Rumman Chowdhury
Curriculum Vitae
Education:

MIT (undergrad), Columbia University (masters), University of California, San Diego (PhD)
About Me

I live in San Francisco and I love comic books, Star Trek, my cat Dax and my dog Enzo.

Read more

Hi! My name is Rumman and I work at the biggest tech consulting company in the world, Accenture.  I live in San Francisco with my cat Dax and my dog Enzo. I like going outdoors, watching sci fi and reading comic books, and eating sugary cereal when I'm not supposed to.

This year, I was honored to be one of BBC's 100 women for 2017. You can watch me on TV soon when the documentary comes out!

My Work

I'm in charge of Responsible and Ethical AI at the biggest tech consulting company in the world.

Read more

At Accenture, my job is to understand what it means to be ethical with AI and make it happen in real life!

My Typical Day: It's different every day! I work with clients around the world, talk to people internally, go to conferences...

Read more

It's hard to say! My job is different every day.

This week, I'm helping design a platform to connect geneticists and biomedical researchers who want to cure ALS.

Next week Monday, I'm going to Stanford University to talk about Ethics and AI.

Tuesday, I am on calls ALL DAY – which means I work from home and get to wear my pj's.

Wednesday I'm meeting with clients to discuss AI and how we can make solutions for their problems.

Thursday and Friday I'm speaking at a conference in Las Vegas.

It's pretty interesting!

What I'd do with the money

A data school for refugees

Read more

I'm heading up an educational nonprofit called Moderne Academy, which uses project based learning that links Syrian refugees to jobs. I'd use the money to fund the school.
My Interview

How would you describe yourself in 3 words?

professional do-gooder (is that 3 words?)

What was your favourite subject at school?

social studies

What did you want to be after you left school?

someone who helped people

Were you ever in trouble at school?

sometimes, but was generally a pretty good kid

If you weren't doing this job, what would you choose instead?

a librarian

Who is your favourite singer or band?

hard to say!

What's your favourite food?

brownie sundaes

What is the most fun thing you've done?

I was on the BBC as one of the 100 women for 2017!

If you had 3 wishes for yourself what would they be? - be honest!

to fly. to not need sleep. to eat what i want and not get fat.
My profile link:
https://artificialn17.imanengineer.org.uk/profile/rummanchowdhury/
---
---